The price of bitcoin has slid under the $30K zone on Tuesday, dipping to $29,300 per unit during the early morning trading sessions (EDT). The global cryptocurrency market capitalization of all the crypto coins in existence is $1.19 trillion as it decreased by more than 6% in the last day.
Bitcoin's Market Cap Sees $19 Billion Shaved in 24 Hours
Digital currency markets have lost considerable value during the last week and seven-day stats show a number of coins have shed double-digit percentages. Bitcoin (BTC) is currently trading for $29,656 per unit at the time of writing, down 5% during the last 24 hours. Weekly statistics show BTC is down more than 10% and holds a $556 billion market valuation. BTC's market cap has shaved off $19 billion since yesterday.
Today, BTC commands 46.7% of the $1.19 trillion, while ethereum (ETH) captures 17.1%. Ethereum is swapping for $1,757 per unit, down 5.7% on Tuesday and seven-day statistics show ETH is down 11.9%. The biggest loser in the top ten crypto market cap positions is polkadot (DOT), which has bled 26% this past week. Cardano (ADA) has lost 19.3% and dogecoin (DOGE) over 18% this week.
Besides the coin unus sed leo (LEO), the top market performers today are all stablecoins. These include DAI, TUSD, BUSD, USDC, USDT, HUSD, UST, and PAX, respectively. 52.18% of BTC's market share is traded in USDT, and 51.09% of ETH trades are also in tether (USDT). 24-hour volume between all crypto assets in existence has jumped over 15% today and is around $67.7 billion. Tether (USDT) commands $47.7 billion of that volume, which is 70.45% of all the global trades recorded on Tuesday morning, according to cryptocompare.com data.
Google Trends Indicates Interest in Crypto Is Lackluster
In addition to markets seeing a slump, interest in digital assets has been lagging a great deal according to data from Google Trends. Coin Metrics' authors Nate Maddrey and Kyle Waters explain in the latest "State of the Network" issue 112, that crypto Google search trends have been lackluster.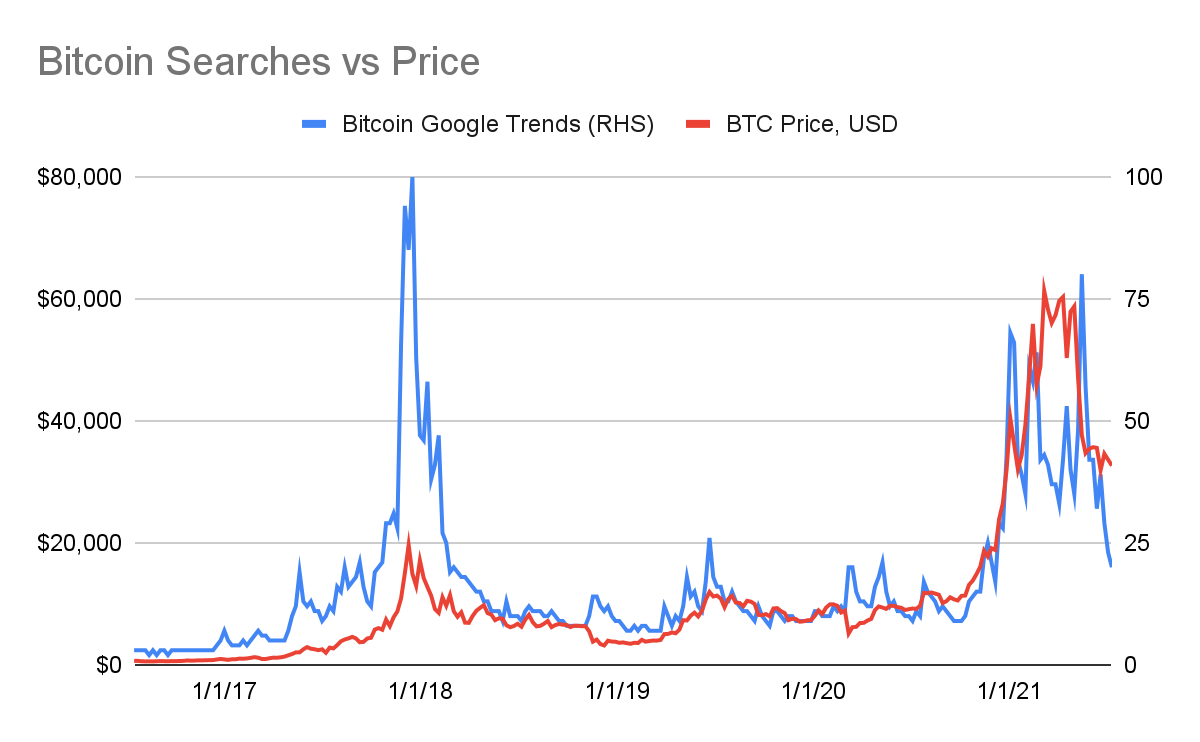 "Worldwide Google search volume for bitcoin shows that interest levels closely followed BTC's rapid price movements this year and tend to track major changes in price historically. While Google Trends data is not absolute search volume for bitcoin, it does show the relative level of popularity for bitcoin searches over time," the author's report explains. Coin Metrics adds:
Relative search interest this year for bitcoin has not yet surpassed levels achieved in late 2017. This might be a sign that many retail investors and the general public were already aware of bitcoin prior to the recent price movements this year. Institutional adoption is a big reason for bitcoin's recent successes in 2020/2021 which will not be captured easily from Google search interest.
Similarly, ethereum (ETH) searches on Google Trends are also lower than the number of queries three months ago. No one knows exactly where the crypto market is going and the latest downfall has been attributed to the issues with bitcoin mining in China and the regulatory crackdown worldwide. This week in the U.S., the New Jersey Bureau of Securities told the crypto firm Blockfi that it needs to stop accepting new interest account users in New Jersey.
"All aspects of the Blockfi platform continue to be accessible to our clients in New Jersey," Blockfi's CEO and founder Zac Prince said. "The order calls for Blockfi to stop accepting new BIA clients residing in New Jersey beginning July 22, 2021." Furthermore, on Monday afternoon, senator Elizabeth Warren, D-Mass., explained that the Consumer Financial Protection Bureau needs to supervise cryptocurrency risks.
What do you think about the recent crypto market action and bitcoin price downturn? Let us know what you think about this subject in the comments section below.
Image Credits: Shutterstock, Pixabay, Wiki Commons, Coin Metrics', Bitcoinwisdom.io,