Digital currency markets have slipped in value this week as bitcoin has shed more than 8% of its value over the last seven days. The entire market capitalization of all 10,000+ crypto assets has also dropped 3.4% in value to $1.25 trillion on Monday. Crypto markets are following the trend of large drops seen across stock markets on Monday morning, as equities have significantly decreased in value.
Crypto Markets Follow Monday's Stock Market Rout, Entire Crypto Market Cap Sheds Over 3%
Bitcoin dropped to a low of $30,400 on July 19, losing approximately 8.64% during the last week as the leading crypto asset slid 3.3% in 24 hours. Bitcoin's market valuation is $575 billion at the time of writing and there's $19 billion worth of BTC trade volume on Monday.
The top five trading pairs with BTC include USDT, USD, BUSD, JPY, and EUR. The stablecoin tether (USDT) commands over 56% of today's BTC trades. Out of the $1.25 trillion, BTC captures 46.4% of the overall valuation, while ethereum (ETH) commands 17% of the entire crypto economy.
The second-largest crypto asset, in terms of market capitalization, is ethereum (ETH) and ether has lost over 13% this week. ETH is also down over 6% during the last 24 hours and has around $14 billion in global trade volume.
The biggest seven-day losers on Monday include thorchain (RUNE) which is down over 40% and synthetix (SNX) down over 37%. The top three leading crypto assets on Monday include nem (XEM) up 6.8% this week, unus sed leo (LEO) up 1.9%, and hedera hashgraph (HBAR) which is up 1.4%.
In a note sent to Bitcoin.com News, Pankaj Balani, CEO of the crypto trading platform Delta Exchange, explains the risk of dropping below $30K is now higher.
"Bitcoin failed above $33,000 and is trading around $31,800 on the spot market," Balani said. "Bitcoin has been in a consolidation phase and is trying to settle in the $30,000-$40,000 range. Having said that, BTC has found it challenging to move higher and the upper end of this range has been converging gradually." The Delta Exchange executive further added:
Bitcoin failed above $36,000 last week and $33,000 this week. We have also continuously tested the bottom end of the above range which shows weakness in price and opens up the risk of a breakdown below $30,000. Overall, the risk of downside below 30,000 on Bitcoin is much higher now than what it was in the months of May and June.
Equities Correction Could Impact Crypto Markets Negatively Short Term, Long-Term Confidence Remains High
Alex Kuptsikevich, the Fxpro senior financial analyst, told Bitcoin.com News that an S&P 500 correction could negatively affect the overall crypto economy. At the time of writing, the Dow Jones Industrial Average is down 700 points, while Nasdaq, NYSE, and tech stocks have also shed significant value on Monday.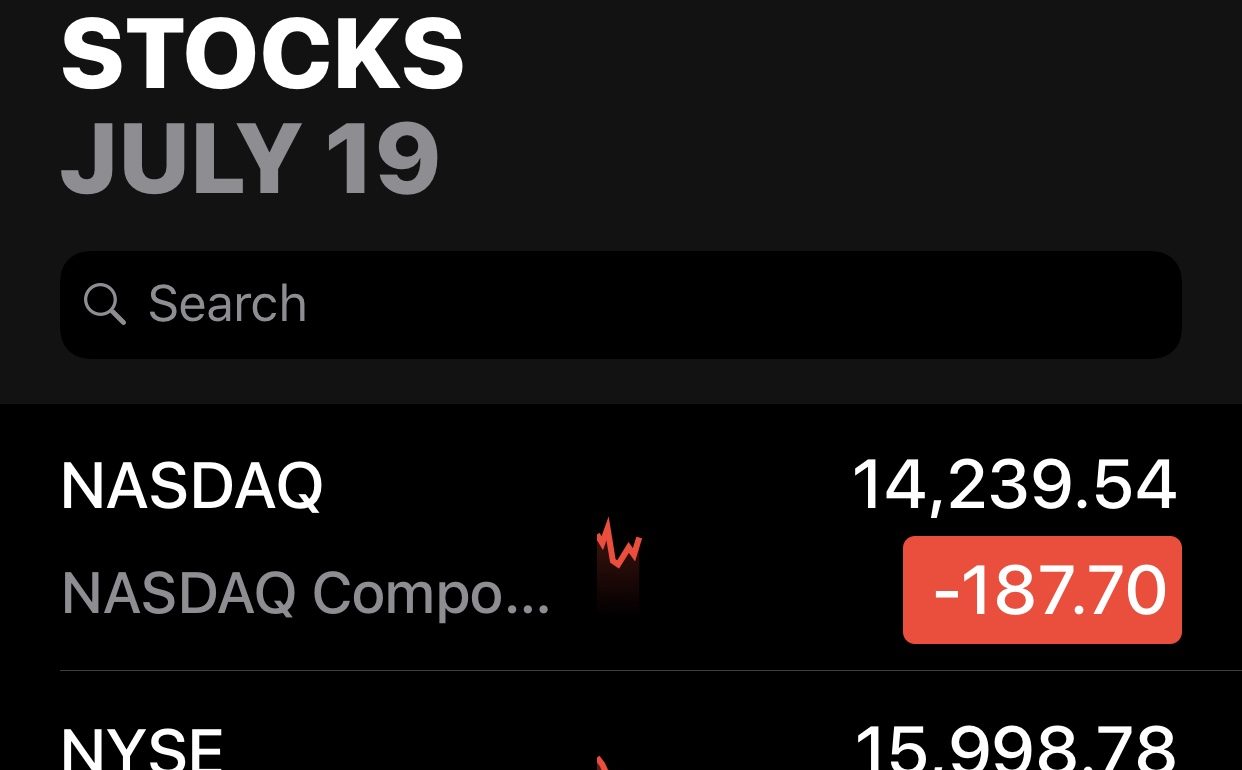 "The Bitcoin network's hash rate has never recovered to its peak and is currently at levels of late October 2019," Kuptsikevich said. "An automatic decline should soon follow this in complexity. It is accepted that Bitcoin's price follows the hash rate/complexity of mining, so the investment outlook is deteriorating for now." Kuptsikevich's analysis continued:
A correction in the S&P 500 could negatively contribute to the short-term dynamics of the crypto market. In this case, a correlation of the benchmark equity index and Bitcoin may well show its full potential, as similar cautionary sentiment prevails in both markets.
Etoro's senior analyst, Simon Peters, says that despite short-term corrections, long-term outlooks are still quite positive.
"Recent harsh conditions for bitcoin and ether continued last week as both crypto assets saw significant sell-offs continue," Peters explained to Bitcoin.com News on Monday. "Bitcoin's recent woes deepened as the crypto asset slumped across the week, starting trading above $34,000 before losing ground. Likewise, ether has come down heavily from recent highs. ETH began the week above $2,000 but saw a quick sell off to trade below $1,900 at times," the Etoro analyst added.
"With yet another poor performing week," Peters added, "speculation on the short-term price direction of major crypto assets is rife, with mixed opinions on price depending on what metric/indicators analysts are looking at." Peters' investors note to Bitcoin.com News concluded: "Long-term confidence remains high, however, with a recent survey of Fintech experts revealing more than half believe bitcoin is capable of becoming the global reserve currency by 2050."
What do you think about the crypto economy's recent downturn? Let us know what you think about this subject in the comments section below.
Image Credits: Shutterstock, Pixabay, Wiki Commons, Bitcoinwisdom.io,