An industry association representing the Russian crypto sector has launched a project to entice bitcoin miners. Despite its abundant sources of cheap energy, Russia is now lagging behind Kazakhstan, another Eurasian Economic Union member, in terms of cryptocurrency production.
Russian Project Aims to Expand Country's Crypto Mining Capacity
The Russian Association of Crypto Industry and Blockchain (Racib) has unveiled a project to bring a larger portion of the global computing potential engaged in cryptocurrency mining to Russia. The Russian Federation, Racib noted in an announcement, ranks among the top five nations by total electricity production. What's more, the country's energy system features unique characteristics that can benefit enterprises involved in the minting of digital coins.
Racib has listed a number of them, including the large surplus of power-generating capacity which reaches 50% in certain regions. The colder Russian climate is another advantage as it allows the cooling of mining equipment at little cost, thus improving the efficiency of data centers. Add to that the wide availability of traditional fuels and other energy resources, as well as the low population density in many areas that makes it possible to deploy large-scale facilities and infrastructure. Racib emphasizes:
All this … provides the best conditions for the formation of specialized clusters in the country to support the global cryptocurrency networks and the infrastructure of the global digital economy.
The crypto association says it will implement the project in close cooperation with central and regional Russian authorities and state-run corporations. Several working groups have been established already with the participation of the energy industry and public institutions. The organization claims its main foreign partner in the project is a "consortium of the largest mining companies in China."
Amid an ongoing crackdown on crypto miners in the People's Republic, Racib hopes some of them will transfer their computing power to the Russian Federation to increase Russia's share of the global hashrate.
Kazakhstan Overtakes Russia as Crypto Mining Destination
Environmental concerns are believed to be a major motive behind Beijing's squeeze on crypto mining and Racib thinks Russia has an answer. Eco-friendly hydro and nuclear energy sources form around 40% of the country's energy balance. And as far as Bitcoin is concerned, Russia's involvement in the miners' migration from China should "provide a more decentralized network format of the main digital currency" and help "avoid another concentration of mining resources in one region, in this case North America."
Chinese miners are already on the move, however, and Russia should hurry up if it wants to lure some of them to its territory. Others have been quicker to take advantage of the shift, including Kazakhstan, another former Soviet Republic, and a member of the Russia-led Eurasian Economic Union (EEU).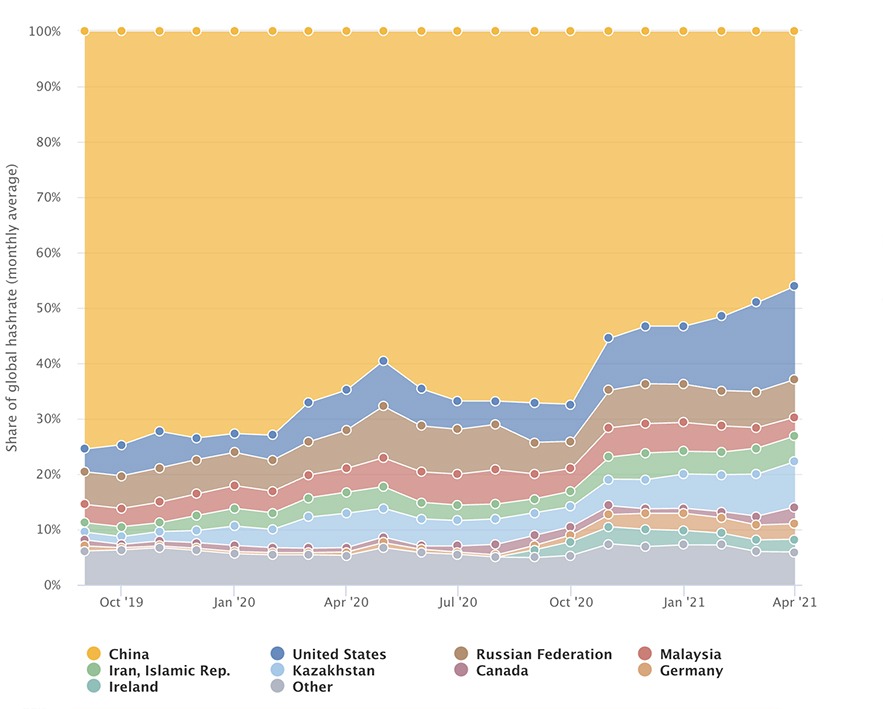 In less than two years, the Central Asian country has increased its share in the global bitcoin extraction by almost six times, from 1.4% to 8.2%, according to a study conducted by the University of Cambridge. By crypto mining volume, Kazakhstan is now third in the world, the data quoted by RBC (a major Russian business news portal) shows, overtaking Russia which ranks fourth with 6.8%.
During the same period, between September 2019 and April of 2021, China's share has dropped from 75.5% to 46%, while the United States has climbed to second place, increasing its share from 4.1% to 16.8%, the report details. According to the research, the Islamic Republic of Iran is now fifth with 4.6%. Still, Russia has a chance to improve its position as Kazakhstan recently introduced a surcharge for electricity consumed by miners despite opposition from the local crypto industry.
Do you think Russia will be able to attract cryptocurrency miners to its jurisdiction? Share your thoughts on the subject in the comments section below.
Image Credits: Shutterstock, Pixabay, Wiki Commons